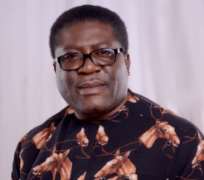 Following the release of the 2019 election timetable by the Independent National Electoral Commission (INEC) few weeks ago, uninterested political hatchet jobbers have suddenly woken up from their slumber to call it a shot in the Governorship seat of Imo State.
Some of these candidates, through their postures and appearances, seem to be very haggard, rumpled and funny, yet they make a lot of noise on the internet and other conventional media; but one thing remains sacrosanct that no matter the size of animals in the animal kingdom, the LION remains the KING.
Prince Eze Madumere, the Imo State Deputy Governor, though very quiet, humane and calculative is one man who makes great input even in his silence aboard. His less noise disposition is a summary of Adolf-Hitler's assertion that "it is better to remain silent and still appear big and heavy than to make noise all day and still be caught like a prey".
I have been a strong critic of Prince Madumere not until I realized the saying that "it's difficult to know what's happening inside while you are outside until you come inside". He is a man whose dignified silence has propelled curious political calculators in Imo State and beyond to begin to juxtapose if "Eze Madumere is Still Running for Governorship in 2019".
No doubt that well meaning individuals in the state see Eze Madumere's candidacy for 2019 as their only sure way of living and survival, while others see him as the David of the Bible whose in-law allowed to succeed as people narrated.
Obviously, I have been on a journey of "fact digging" to find out while Prince Eze Madumere has not thought it wise to "cause political tension" as other desperate political hogwash are doing, I have tried to find out why the Mbieri Prince is not joining issues with individuals who incite the public against him, I have finally arrived at a point where I was convinced on the reasons why Eze Madumere has remained silent in the midst of confrontations, media propaganda and political rigmaroles.
After going through all these processes, I have no fear of contradiction to state unequivocally that Eze Madumere is calm because he hates bloodshed, he is calm because he hates violence, he hates noise making, betrayal, and he hates sabotage. No wonder as a silent achiever who hates blowing trumpet while assisting others, he has been cajoled, written against and sometime blackmailed for just DOING good for others.
According to the Holy Bible, "those who do not appreciate good things will find it difficult to see good things", but as a man who appreciates and recognizes benevolence, he had on various platforms commended his boss and Governor of Imo State, Owelle Rochas Okorocha for bringing him to limelight, but my question remains why should other beneficiaries of his kindness refuse to acknowledge the good deeds of the Mbieri Prince for them instead, they engage in media massaging?
Little wonder why Prince Eze Madumere has consistently and comfortably remained with Owelle Ndi-Igbo for over twenty (20) years without any dent considering Governor Okorocha's workaholic and positive "troublesome" character? It is because Eze Madumere is enduring, understanding, dynamic, straightforward, upright, bold and meticulous to the core.
Governor Okorocha I know is a no nonsense man, he is an accomplished leader and acclaimed political juggernaut who can best be described as an "INSTITUTION". For any individual to have graduated from an institution as we know, the graduant must have been found worthy in character and in learning, which presupposes that Eze Madumere is sound in character and in learning and therefore is glaringly QUALIFIED to govern Imo State in 2019 having graduated from a human institution.
Like Governor Okorocha asserted that his successor in 2019 must be a person from "Agburu Anyi" in translation, it means that the person must come from "Our Tribe". Very good!
In Imo State today, no individual talks about All Progressive Congress (APC) or Rescue Mission Government without counting Eze Madumere after Governor Okorocha. My question remains that if Eze Madumere is part of APC, Rescue Mission (AGBURU ANYI) and has represented the state Government in various sensitive meetings of who is who in the party, what stops him from assuming the number one position in Imo State having sacrificed alot for the sustenance and growth of "Agburu Anyi"?.
Even though Prince Eze Madumere is being very calm and understanding, members of the ruling party are no doubt of the view that it would be meaningless and waste of energy, resources and time to look for any other candidate to fly the ticket of APC in 2019 when a qualified rescue mission compliant and foot soldier is consistently waving his hands at us.
Yes Eze Madumere is running but there are some necessary plans the ruling party must put in place in order for the party to win a landslide victory during the 2019 Governorship election outing. The right time is now. My submission.
Esogibe Ikenna is an Opinion Moulder and a Social Crusader