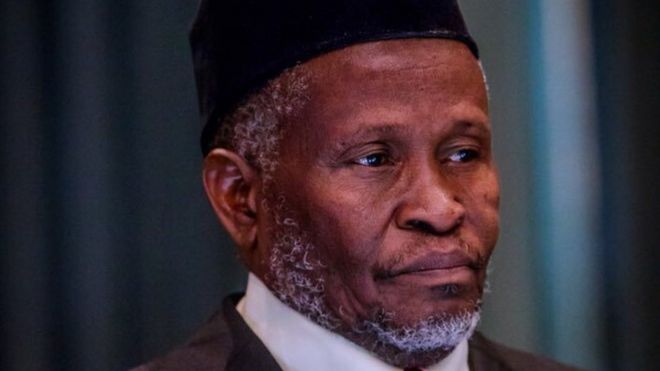 Chief Justice of Nigeria, Justice Tanko Muhammad
Twenty-four hours after Justice Adamu Abdu-Kafarati retired as the Chief Judge of the Federal High Court, nobody has been sworn in to replace him as of Friday.
The scheduled swearing-in of the next most senior judge of the court, Justice John Tsoho, as the Acting Chief Judge of the court, failed to hold on Friday.
Guests, including a former Attorney-General of the Federation and Minister of Justice, Michael Andoakaa (SAN), who were at the Supreme Court for the event scheduled to take place at 10:00 a.m. on Friday have dispersed.
Also, another judge of the court, Justice Mojisola Olatoregun, who was also at the ceremonial court of the apex court left around 10:40 a.m. when there was no sign in sight that the event would hold.
Justice Tsoho was also at the venue briefly before he left.
No formal announcement cancelling the event was made on Friday, although press invitation was issued by the apex court earlier on Thursday.
Although the oath-taking by Tsoho was supposed to be presided by the Chief Justice of Nigeria, Justice Tanko Muhammad, there were speculations on Friday that the CJN refused to show up for the event on the grounds that he had yet to receive any communication from President Muhammadu Buhari in respect of the appointment.
Details later.